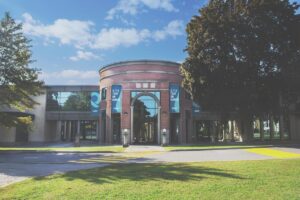 The Université du Québec en Outaouais is a member of Canada's largest university system, the Université du Québec network.
Established in Gatineau (Hull sector) in the Outaouais region in 1981, it has also had a campus in the Laurentians at Saint-Jérôme since 2010.
Through the diversity of its programs and the excellence of the teaching it offers, UQO is a committed university in full expansion.
Its mission: « La plus haute expression du savoir, de la recherche et de la création » which can be translate to "The highest expression of knowledge, research and creation."
Its vision: « Être plus près, aller plus loin! » which can be translate to "Getting closer, going further!"
Its values: « Le dépassement de soi, l'excellence et la rigueur, l'ouverture, l'intégrité et la transparence, le respect » which can be translate to "Surpassing ourselves, excellence and rigor, openness, integrity and transparency, respect."
University of the future, with UQO it's possible to "Think Big Together".
For further details, please consult the official web page of the Université du Québec en Outaouais