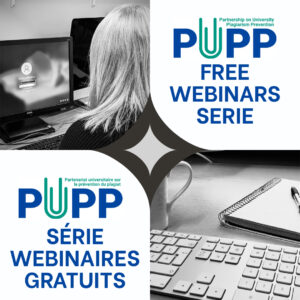 PUPP experts will present a series of free webinars, aimed at anyone interested in the various topics of academic integrity, plagiarism prevention, skills (informational, referencing) and more… Are invited especially, university teachers and students. Welcome! 10 a.m. EST or EDT depending of the date. Click on webinar title for description.
Registration: Registration is required to receive a Zoom link for the webinar a few days before the presentation date. You may select one or more webinars.
TO REGISTER FOR THE FREE WEBINARS, CLICK HERE!
PUPP's YouTube Channel – Free Webinars Serie – Subscribe!
WEBINARS ARCHIVE – Click to view all PUPP's webinars