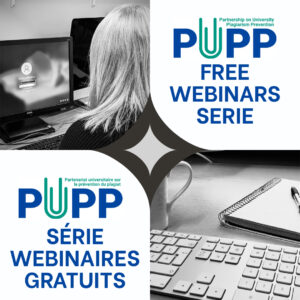 Les experts de PUPP présenteront une série de webinaires gratuits, destinés à toute personne intéressée par les différents thèmes de l'intégrité académique, la prévention du plagiat, les compétences (information, référencement) et plus encore… Sont invités, en particulier les enseignants et les étudiants universitaires. Bienvenue !
Actuellement, les webinaires offerts sont en anglais. Continuez à surveiller cette page pour voir l'affichage des webinaires en français! 🙂
---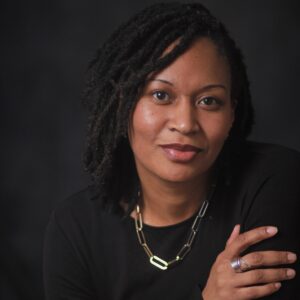 The Reference Resource: What, When, How and Why of Referencing.
October 5th, 2023, 10h am EST (Montréal)
Abstract: This webinar will introduce the concept of referencing, focusing on current practice and the rapidly changing practice of referencing norms. Through examples and a case study, engaged participants will learn the significance of referencing, the purpose and standard of referencing practice, the differences between referencing and citation (and why both matter), and identify new considerations for referencing that promote academic integrity and improve the clarity of academic writing.
Lecturer: Ceceilia Parnther is an Associate Professor of Executive Leadership at Le Moyne College. Her research focuses on academic integrity equity, and student success. She regularly writes and presents on issues of academic integrity and is currently editor in chief of the Academic Integrity and Referencing skill module for Student Success with SAGE Learning Resources.
To register for this webinar CLICK HERE
---

Institution-Wide Approaches to Academic Integrity, Working with Colleagues and Students
November 9th, 2023, 10h am EST (Montréal)
Abstract: Skills and knowledge of undergraduate students, on topics such as academic writing, use of sources, paraphrasing etc, are sometimes overestimated by their subject tutors and the students themselves. Such skills deficits can lead to allegations of plagiarism or academic misconduct. This webinar will consider ways that higher education institutions can work with colleagues and students to avoid and overcome these difficulties.
Lecturer: Dr Irene Glendinning is Academic Integrity Lead for Coventry University Group, based in the Office of Teaching and Learning. Before she joined Coventry University in 1990, she taught in secondary schools, further education and adult education and worked for a decade in industry as a computer scientist. After joining Coventry University, she managed portfolios of undergraduate, postgraduate (PGT) and international partnership programmes, as well as supervising several PhD students. Since 2009 she has led and participated in many successful research projects focused on policies for academic integrity and academic quality, funded by the European Commission, Council of Europe and Council for Higher Education Accreditation. She is currently leading the working group for the European Network for Academic Integrity (ENAI) on ethical publishing and dissemination (EPAD) and co-leading the joint ENAI and NERQ (Network for Education and Research Quality) working group on Academic Integrity Policies. Her research interests remain in academic and research integrity, quality assurance, pedagogy, student experience and addressing corruption in higher education. She serves on several editorial boards and advisory groups focused on academic and research integrity and continues to conduct research, currently on projects with funding from Canada and Europe. She has published many journal papers and book chapters on topics relating to academic integrity policies and addressing corruption in education.
To register for this webinar CLICK HERE
---

Intentional Plagiarism: Testing Risk Aversion Hypothesis
February 27th, 2024, 10h am EST (Montréal)
Abstract: This webinar explores the idea that intentional plagiarism can be a risk adverse behavior, which can be seen in a large variety of contexts (Mandrick & Bao, 2005) and even in the animal kingdom (Zhang, Brennan & Lo, 2014). Using three different data collections, this study investigated French-Canadian undergraduate education students' (i) inclination to take risks in life and (ii) their likelihood of intentional plagiarism in different scenarios involving varying degrees of risk of being caught. Our finding shows that 60% of students declare themselves as non risk-takers. Thus, we will show that the risk adverse hypothesis seems plausible and we suggest that students are more susceptible to plagiarise when the stakes are high and the risk of being caught is low.
Lecturer: Sébastien Béland is an Associate Professor in the Department of Administration and Educational Foundations at the Université de Montréal. His passion for research and statistics is reflected in his areas of expertise: assessment (objectives, tools and practice), measurement and research methods.
To register for this webinar CLICK HERE
---

Croatian students' ombudspersons: What support do the students need and how effective are they as ombuds?
March 2024, 10h am EST (Montréal)
Abstract: Information to be confirmed
Lecturer: Pegi Pavletić is a Ph.D. candidate in Chemical and Pharmaceutical Sciences and Biotechnology, field: medicinal chemistry, at the University of Camerino in Italy. She is a member of the Steering Committee of the Quality Assurance Pool of Student Experts under the European Students' Union. She is a former member of the Executive Committee of the European Students' Union, focusing on the fields of Quality Assurance, Academic Integrity and Recognition. She was a President of the Croatian Students' Council and a two-time President of the Students' Council at the University of Rijeka, where she collaborated with students' ombudspersons and the national students' ombudspersons coordinator.
To register information to be confirmed.
---